Vivitar DVR 390H
Media Player with 6 functions in 1 device
Digital camera, video camera, TV/video recorder, photo frame, MP3 player, voice recorder
3.1MP sensor and 4x digital zoom
2048x1536 resolution and a 3.6" color TFT display
20GB internal drive and a 3-mode autoflash system
<![if !vml]>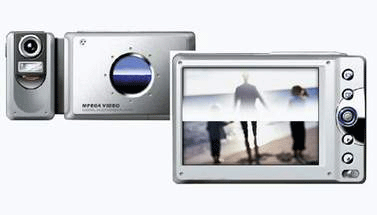 <![endif]>
Vivitar takes convergence electronics to a new level with the launch of the world?s first 6-in-1 multimedia recorder/player. It offers outstanding versatility combining a MPEG4 video camera, digital still camera, TV/video recorder, digital photo frame, MP3 player and voice recorder in a compact and stylish device.
Unique to Vivitar, the DVR 390H features massive storage capacity with 20 Gigabytes of onboard memory and SD card compatibility. That?s the equivalent built-in memory of many notebooks and PCs. Coupled with a super long-life lithium-ion battery, it can capture an outstanding 15 hours of VGA movies, 24,000 high quality still images and more than 5000 MP3 music files. The mains cradle unit further expands functionality with AV-in and out, USB and microphone connectivity catered for.
Multifunctional recorder Using the tiny detachable camera/camcorder module (just 40mm wide x 71mm long x 30mm deep), the DVR 390H captures superior MPEG4 video in both VGA and XVGA formats. A 270-degree swivel lens ensures optimum manoeuvrability for capturing those tricky camera angles while the 2x digital zoom enables the user a closer view.
The DVR390H can also record video from virtually any video source including TV, VCR and DVD. Together with its huge storage capacity, users can easily store movies, videos or TV programs and view them when convenient.
The combined digital still camera features 3.1-Megapixels and produces high resolution images. It also offers a macro lens of 0.7m to 1.4m. User friendly features include variable quality settings, a self-timer with 10-second delay, built-in flash with red eye reduction and optional date stamping. The DVR 390H also functions as a voice recorder. Using the microphone input connection it records high quality sound clips and is ideal for recording lecture notes or interviews.
The ultimate player Delivering brilliant LCD playback review is the huge 3.6 inch LPTS TFT LCD screen. With five levels of brightness control the DVR 390H provides excellent viewing clarity in full colour. It is also large enough to play stored movies and videos when on the go, making the DVR 390H a great entertainment solution for road trips.
The large screen enables the DVR 390H to function as a digital photo frame. Simply sit the device in its cradle for continuous AC power and select the slide show format to electronically present those favourite snaps.
In addition, the DVR 390H stores and plays MP3 music files through its built-in speaker or included headphones, with volume adjustable to five different levels. All of this in a compact device that measures just 106mm wide x 71mm long x 32mm deep.
Brilliant functionality The DVR 390H offers superb functionality and is compatible with PCs and MACs. Using the cradle it can connect to a range of other peripherals including TV, PC, notebook or printer. Even its 20GB hard drive can be used to store unrelated data and computer files.
The Vivitar DVR 390H offers excellent value for money including a rechargeable lithium-ion battery, charger and AC adapter and comes with a complete software package that includes Photo Suite, WIN DVD Creator and Muvee Auto Producer
<![if !vml]>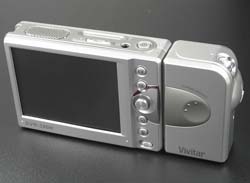 <![endif]><![if !vml]>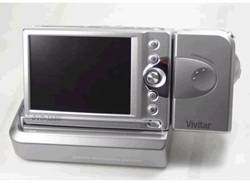 <![endif]><![if !vml]>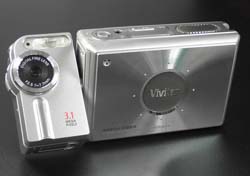 <![endif]>
Portable Digital Multi-Media Player/Recorder that handles all of your digital entertainment needs

Digital Video Recorder:

Record video from virtually any video source (even TV) to MPEG 4 format

Store movies and videos on reusable memory cards

Digital Video Player:

Play your movies on the 3.6" color screen

Store movies and videos on internal hard drive or reusable memory cards

Store Up to 5000 Songs

MP-3 Player:

Store and Play your favorite MP-3 tunes using either the built-in speaker or headphones

Digital Video Camcorder:

Record videos using Digital Video Camcorder mode

Use like a camcorder to capture MPEG-4 videos

Digital Still Camera:

Capture 3 megapixel digital still-images in digital camera mode

Digital Photo Frame:

Display Digital Images as electronic PhotoFrame

Use the included cradle for continual AC power

Functionality:

USB 2.0 connectivity to your PC or Mac

Large 3.6" LCD display

Built-in speaker and headphone jack

Long-lasting lithium-ion battery


Specifications:
Type:

Digital multi-media player/recorder/camcorder

Image Sensor:

Still Image Resolution:

Video Resolution:

VGA: 640 x 480 (28fps)

QVGA: 320 x 240 (30fps)

Lens:

Fixed focus, F/3.5 aperature

Digital Zoom:

Range of Focus:

4 Feet to infinity, Macro 2-4 feet

Flash:

Exposure:

Automatic, manual: +/- 1.8 EV (1/3 EV step)

White Balance Automatic:

Internal Memory:

External Memory:

SD (Secure Digital) memory card (optional - supported up to 512mb)

AV Recording:

Video Compression: MPEG4 (ASF)

Audio Compression: G.726

Digital Photo Frame:

Photo slide show with 3.6" big screen LCD

Audio:

Built-in microphone (mono)

Built-in headphone plug 3.5mm (stereo)

Built-in speaker (mono)

Video:

Video output: NTSC/PAL

Video input: analog composite video

File:

Formats Still images: JPEG, Video: ASFC, MPEG4,

Audio: G.726

System Requirements:

PC: Windows Me/2000/XP, MAC: OS 10

USB 2.0, Windows Media Player 9.0 required

Software:

Language Support:

OSD English, French, Italian, German, Spanish, Traditional/Simplified Chinese, Japanese

Connectors:

USB 2.0 port, headphone, video input

Headphone Port:

3.5mm plug for MP3 stereo.

Power:

Lithium-ion battery, AC Adaptor (5V/3A)

Battery takes 2-3 hours to charge

Battery power for various solutions are; 1 hour for audio and video, camera is 1hr 10 to 1.5 hours and using just audio is 2 - 3 hours.

Common Package Contents:

Media Player, Docking Cradle, AV cable, USB cable, Earphone and earphone cable, Microphone, User's manual, Software CD-ROM, Hand strap, Pouch, Camera Module

Certification:

Dimensions:

Warranty:

I years manufacturers warranty